This month's featured pattern
Paris is always a good idea
Everyone loves a good garter stitch shawl don't they? This one was originally conceived as a travel project for a planned trip to Paris with some knitting pals. A long cast on edge made for lots of fabulously easy knitting whilst lounging around in Parisian cafes, possibly eating a croissant. Unfortunately life intervened, I was ill and the trip went ahead without me - sniff - but I did have a wonderfully squishy and soothing knit to console me from my sick bed.
This sample is knit in the delightful Tamar 4ply from Blacker Yarns and I can confirm it is heavenly to work with, particularly in garter stitch and the fact that you need three contrasting skeins of yarn gives you an excellent reason to play with shades and colours.
Autumn Crocus is a fun, relaxing shawl designed to use a sock weight yarn with limited yardage of less than 400 yards paired with a contrast yarn from your sockweight leftovers. Fun and frugal - the perfect combination.
Knit from the top down there is plenty of soothing stocking stitch and a simple but effective garter stitch and lace panel repeated at intervals.
Indulge your love of garter stitch and colourful stripes in this fun, simple to knit shawl. Using only garter stitch and yarn over (yo) increases, this shawl is a wonderfully wrappable elongated triangle or heart-shaped shawl.
Have fun and play with colours and stripes to your hearts content.
Born from a love of natural woolly goodness and garter stitch in equal measure, this generously sized, crescent shaped shawl works up quickly in DK weight yarn.
An i-cord bind off - attached as you work - provides a perfect finish to this relaxed and fun knit.
Although beautiful as a natural gradient, this pattern would also work well in modern brights or by pairing a colourful single skein with a more neutral background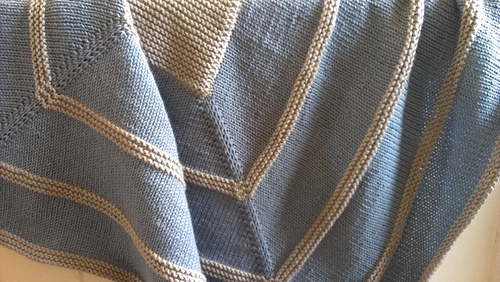 More of a recipe than a pattern, this is the ideal fuss free baby blanket. Either knit in stripes to use up your stash, or done in a single classic colour, this blanket has all the advantages of working in the round, without the fiddly start on DPNs.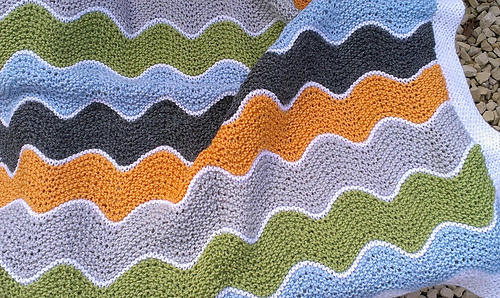 I love the look of crocheted ripple blankets but they have always defeated me. I love feather and fan patterns but wanted something a little less feminine for my son and I love garter stitch - and 'lo - Garter Ripple Squish was born.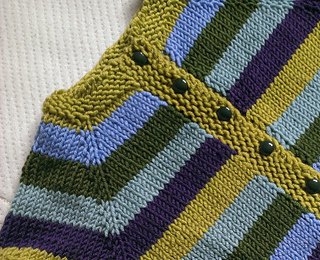 A simple and fuss free baby cardigan, ideal for a knitter who is new to seamless knitting, this tiny garment allows for lots of customisation to suit baby girls and boys alike.